COVID-19 Policies
UPDATED 7/08/2020 @ 2:37PM
Portland Rock Gym reopened for Phase 1 starting on Monday 6/22/2020. Guidance regarding how best to minimize risk of infection has, and will continue to, change over the course of this pandemic. This page will always be kept up to date with everything that you need to know to use the gym during COVID-19.
Hours and Service
At this time, Portland Rock Gym is open Monday through Friday 11am to 9pm, Saturday 11am to 6pm.
During peak hours, PRG will serve members and punch card holders only. Day Passes, Guest Passes, and shared punches are permitted for weekday check-in times before 3pm ONLY. Early Bird pricing for day passes is unavailable at this time. Early Bird memberships are still available and will continue to be honored.
Members will need to book their check-in time and yoga classes in advance. Climbing time-slots will initially be 1.5 hours in length and available as far as 5 days out.
So long as our hours are limited, we will be waiving our membership initiation fee (normally $50) and our membership freeze fee (normally $10 per month).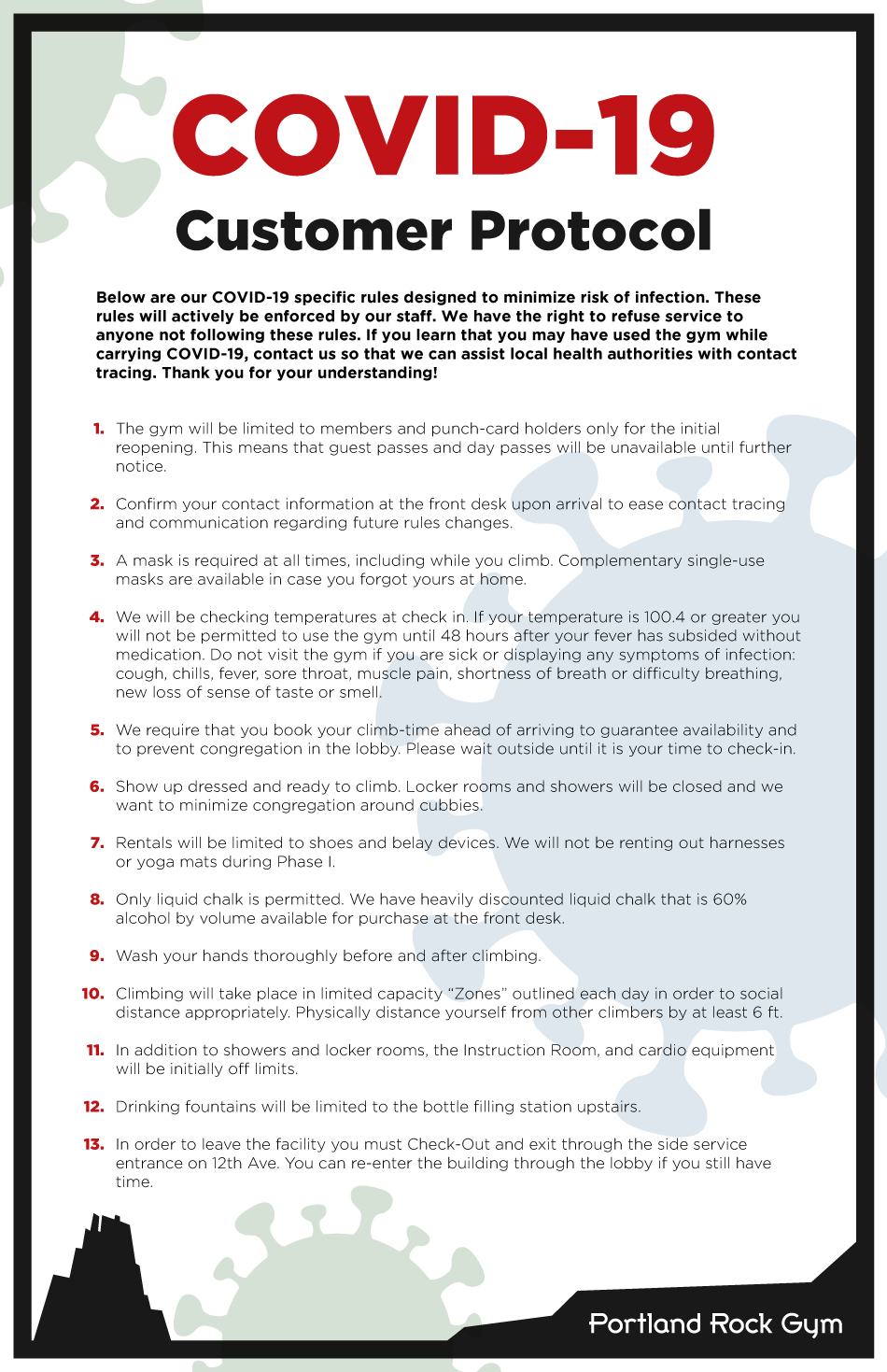 Classes, Programs, Guiding, and Yoga
Intro Classes are returning with the first class on Saturday 7/18/2020 from 11am-1pm.
Lead Classes are returning with the first 2-session class on Saturday 8/1/2020 and Saturday 8/8/2020 from 1pm-4pm.
Summer Camps will start on July 6th. Camps will be limited to 10 children per week.
Guiding has returned for private guiding and private group classes for up to 4 people. If you'd like to book an outing, please email: guiding@portlandrockgym.com
Yoga classes will be limited to 8 students and a teacher. Bookings will be required in advance. Starting 7/20, classes with fewer than 3 people signed up will be cancelled: morning classes would be cancelled the night before, and evening classes would be cancelled the morning of.